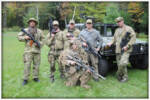 Stephen Troy, Jr. is a Massachusetts State Trooper, an Air Force reservist and a successful entrepreneur. A commitment to service and a passion for designing high performance weapons have propelled his law enforcement, military and business career.
Troy was born in Connecticut in 1970 and was drawn to service as a young boy, eventually becoming an Eagle Scout, a member of the Civil Air Patrol, a Police Explorer and a martial arts expert. He began his military career in 1987 as a member of the Connecticut Air National Guard and later transferred to the US Air Force Reserve.
Early in his military role he began serious exploration of what would become a lifelong passion – the expert use and development of small arms. He took advantage of every opportunity to train and earned certification in weapons ranging from the M-16 rifle to the M-60 machine gun. During his military career he's been called to active duty twice, has served in the Middle East and extended his training in small arms development and counter-terrorism.
Troy began his law enforcement career in 1988 and has served as a Massachusetts State Trooper since 1999. Several years ago, he began sharing his knowledge of small arms design as a professional consultant. In 2003, he and his wife, Oytun, formed their own company, Troy Industries, with a goal of designing and manufacturing top quality small arms components and accessories.
With an unrelenting focus on quality and innovation, the company enjoyed phenomenal growth. In only a few years in business, Troy's flagship product, Folding BattleSights, gained a solid reputation as the industry's finest. Other Troy products, including rails, slings and full weapon upgrades made a mark on the industry as well.
Iconic firearms manufacturers such as Smith & Wesson, Sturm Ruger & Company, Sig Sauer and others took notice and began incorporating Troy products into their new weapons. Today, Troy Industries is one of America's largest suppliers of OEM small arms accessories, with a wide ranging customer base of military and law enforcement personnel. What started as a small family-run business has grown to more than 40 employees. The company is preparing to purchase and move into a new large-scale manufacturing and office facility in West Springfield, Massachusetts.
Steve and Oytun Troy stay involved in the day-to-day business operation and enjoy the challenge of managing a company with a seemingly unlimited potential for growth. They enjoy participating in trade shows and getting the word out about their company – and their Predator-built Hummer plays a large role in their work. They believe that by staying focused on the company's original commitment to quality and innovation, Troy Industries will continue to thrive.
Read more