Predator Inc. Orlando, FL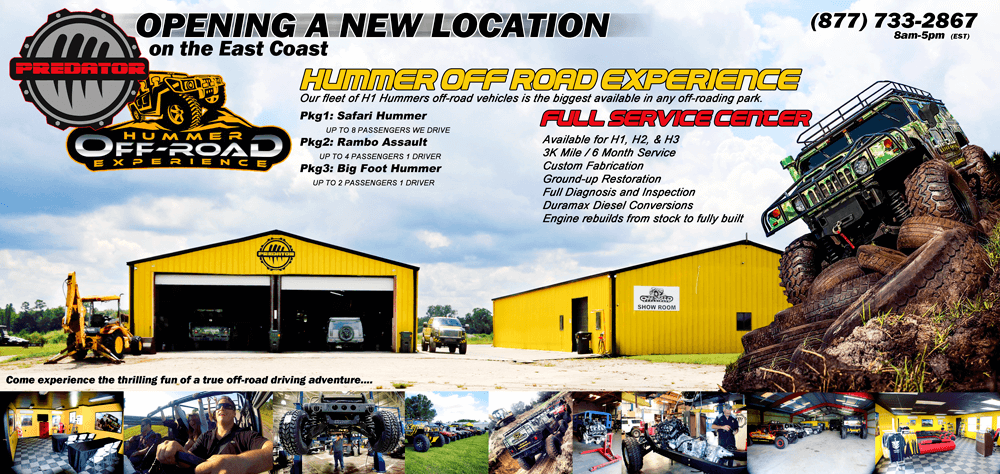 Predator Inc. is proud to announce that we are teaming up with "Hummer Off-Road Experience" and opening up our second location in Orlando, FL. Predator Inc. will not only offer top quality Hummer accessories, custom fabrication, and a full-service center. Our clients will now have an exciting opportunity to feel the rush of a Hummer on a 4X4 off-road track where you can go flying over dunes, speeding through turns, and going airborne off jumps that will leave you breathless.
Come experience the thrilling fun of a true off-road driving adventure in FL.
It is safe, fun, and close to all major Orlando destinations!
We have a fleet of 12 H1 Hummers, fully customized for your off-roading experience
Our park features a variety of off road tracks for any level of experience
All our rides include a fully trained driver and safety restraint systems.
You can choose to go for a day of family fun, or for a true test of your off road driving skills
Toll Free: (877) 733-2867
Phone: (760) 734-1749
Fax: (760) 874-2973
6024 County Road 561
Clermont, Florida 34714
CORPORATE HOURS:
M-F 8am – 8pm Eastern Standard Time (EST)
Sat. By Appointment Only
SALES sales@predatorinc.com
PRESS SUPPORT press@predatorinc.com
PRODUCT SUPPORT support@predatorinc.com