Military
Manufactured for the relentless pursuit of freedom.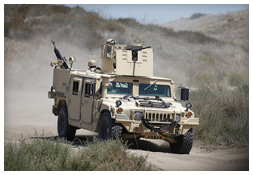 Over the years Predator Motorsports Inc. has formed a vital alliance with our armed forces spread out across the world. We are a supplier of high quality components designed and built by our team of engineers and fabricators to improve the reliability, strength and power of the civilian and military Hummers serving in war zones both as high security vehicles and war machines. In 2004 Predator formed a new corporation, which deals exclusively with the military and state department both here and overseas. Our goal is to continuously improve the safety of our men and women risking their lives for our freedom. Much of what we have learned has come through extreme Hummer off road racing, rock climbing, desert conditions and water fording where the need for strength, durability and reliability is paramount.
Custom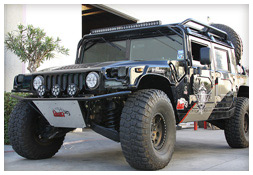 Predator Motorsports Inc. is one of the largest manufacturers of custom and production Hummer H1 and H2 accessories in the world. Over the years and through continued high customer satisfaction we have been able to grow into the leader of custom and production Hummer components and accessories for the most discrete customer. We can offer and build for you anything imaginable. From a Hummer that can race through the desert at over 140 mph and in 120 degree heat to a fleet of fully armored "hard cars" (up armored to level B-7), we can deliver. Many of the day to day jobs include roof racks with various light tabs and folding ladders to custom hydraulic tire lifts to relocate your heavy spare to the roof of your Hummer. Anything is imaginable and everything is possible. Give us a call with your ideas and we will help you realize your ambitions.
Production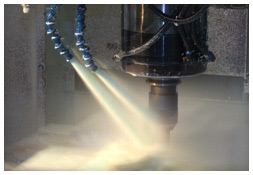 Our product line is taken very seriously; we put our name on the line on every component sold. This is why most of our production parts and accessories are not seen by the Hummer community for an average of 6 to 18 months. Each part engineered and manufactured or resold by us has extremely strict guide lines to meet. We strive for 100% satisfaction using the latest in technology to build our product line. Engineered in the pursuit of perfection.
Race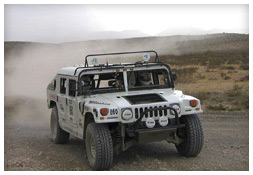 Predator is proud to be a sponsor of several Race teams. Our team has designed and built Hummers and HMMWV's for both full race specification to Pre-Runner Hummers designed for a smooth comfortable ride at close to 100 mph through the desert. Many of our production products are thoroughly tested in our race applications giving us further data and race inspired concepts.
Predator Motorsports is proud to sponsor the John Griffen/Mike Sabbrase Hummer Race Team. The Race Truck started as a 1998 H1 Hummer and has been competing in all of the Score Races, ranging from the Baja 1000 and 2000 to the Primm Nevada Race from 1998 to the present. The truck is one of only a few that has won the coveted True Grit trophy for finishing every mile in every race! This feat in itself is a true testament to the H1 Hummer and the race team. Racing in the Stock Full Class allows for the addition of shocks on each corner for improved handling and the necessary safety items. This truck is as stock as a race truck can get. Modifications include triple bypass shocks in each of the corners with a full custom suspension crafted from the Predator Fabrication Team. The H1 also includes a high strength Roll Cage throughout the body. For improved engine and drive line wear, the truck is fitted with coolers mounted in the rear of the truck. To date this H1 has won 3 consecutive championships for the 2001, 2002, and 2003 Race Seasons. At the brink of the 2004 season we are looking for our fourth consecutive championship. We will post more information including race standings in the coming issues as we embark on our 4th championship.
Research & Development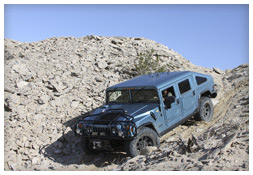 At Predator Motorsports Inc. we understand that Research and Development are key to a long lasting partnership with our customers. This is why every part designed and engineered by our team is run through some of the harshest conditions and forces known to a Hummer. The question behind every part designed is "how well would this work in a war zone supporting our troops," because many of our components could someday be used by our armed forces protecting our freedom.